Regarding agricultural games in the metaverse 2023, this page offers comprehensive advice, including the most popular NFT Farming games in 2023.
These games motivate users to do farming in the metaverse, and players can acquire NFTs and cryptocurrency, by taking part in these virtual world games, you can earn real money.
Are you willing to know about metaverse? So, the metaverse is a virtual world that may be entered by using internet-connected electronic devices. Metaverse is completely a 3D world.
Are you ready to be excited? Then let's begin. If you love this article, don't forget to Share it with your friends and family.
1. Cropbytes
Cropbytes is a crypto farming game that was launched in the month April 2018. Players can own assets throughout this game, produce crops, and then sell the results in return for cryptocurrencies like CBX or TRX. This gives the gameplay a real-world flavor.
After signing up for this game, for a trial period of seven days, players receive a beginning pack of assets, which players can use in initial farming. Once this trial ends, farmers have to purchase more assets to keep farming. For this ongoing farming, the farmer can earn real money or cryptocurrency by selling the outcomes like milk, vegetables, etc.
Is CropBytes Free to Play
Certainly, cropbytes is free to play; rather, users will be paid if they play this metaverse NFT game. Players or virtual farmers can earn $CBX and TRX farm by playing this metaverse game.
How do you Earn Money using CropBytes?
In this metaverse game, you can either sell your generated goods, such as milk, crops, and other things or convert your extracts into CBX tokens. Then set up your farming by acquiring assets.
2. Farmpoly
Farmpoly is another online farming game that is inspired by the Farmville farming game. In this game player or Farmer can acquire Farmpoly tokens by raising animals, growing crops, and building a farm.
The main goal of this game is to attract more players by encouraging it as a play-to-earn game. A future plan for this game is rewarding contributions to the users through blockchain economical design.
Farmpoly's plans include investing in bitcoin mining, gold, and real estate.
Farmpoly Token
The BNB smart chains platform is used to build the Farmpoly token (BEP20. $POLY is the ticker code of the Farrmpoly token, and now its current price is $0.011. At present $POLY total market value is $571,651.82.
3. Plant vs. Undead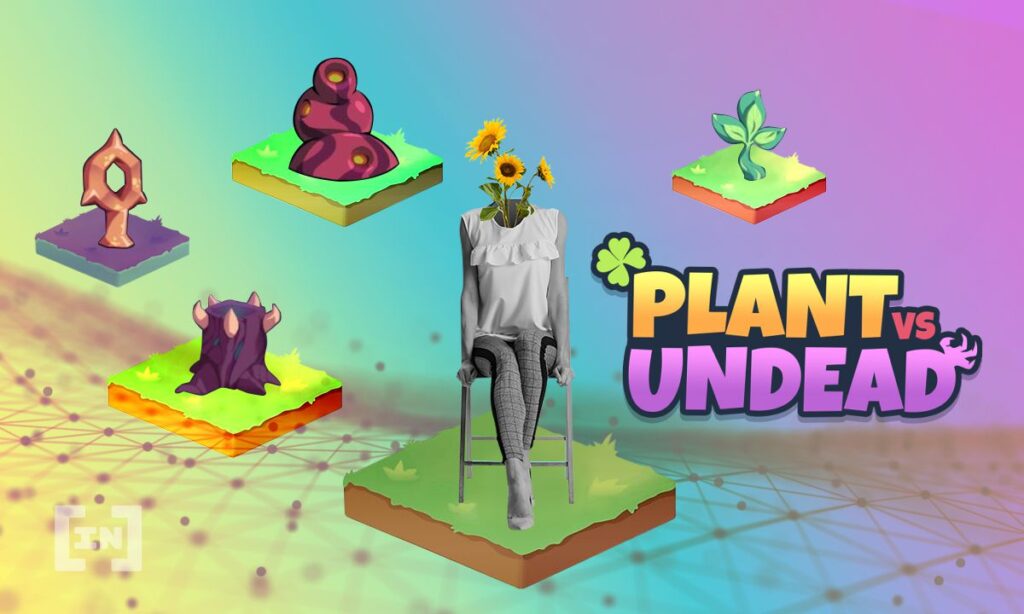 Another popular online game, Plant vs. Undead was launched in June 2021. This game is a pay-to-win metaverse game. This is an online multiplayer game where you can earn money or crypto easily.
In this game, the main task is to protect plants from the "undead" by fighting. By saving more and more plants, users can earn PUV tokens and convert them to real money or cryptocurrency.
Plant vs. Undead Token:
On the Bnb smart contact, a similar indication is made (BEP20). PUV serves as the token ticker code's symbol. The market value of the PUV coin, which is now $0.04, is $2,187,122.91.
4. Plato Farm
Plato Farm, is a renowned metaverse game built using blockchain technology. This game is fascinating, where the player is provided features of constructing a small farm in a virtual reality world.
Here the player can grow plants, bring up animals, and build their towns and cities.
Throughout this game, gamers can build towns and cities on barren land to make it look incredibly appealing, earning tokens like MARK and PLATO in the process. In this Plato, ecosystem game players can make their group earn money while playing.
Plato Farm Token
The Plato-farm token is created on BEB20 – Binance smart contract. Plato farm token's ticker code is PLATO. PLATO's current price and total market value are $0.01 and $1,168,540.37, respectively.
5. Farmers world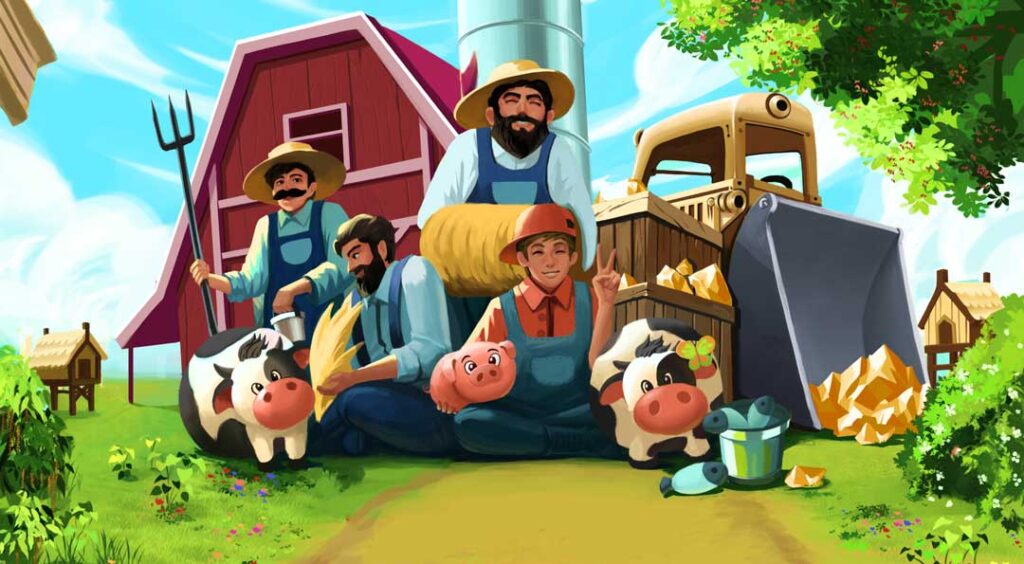 Another popular NFT metaverse game is Farmers World which utilizes the WAX blockchain as its foundation. This game gives real-life farming experiences like cultivating land, farming tools, and buying and selling estates to build farms. This game makes you feel like you are in a real farming ecosystem. In this game, "WAX" is the main token for the transaction.
How to make money in Farmers world?
Players can make money effortlessly by raising animals, mining gold, and cultivating crops. These items can be sold for Wax tokens or given to another user in exchange for animal
6. Howdy Games (Honest Farmer)
Howdy Farmers is another popular crypto-farming game that is based on a polygon network. Howdy farmers will launch all games on the Layer-2 scaling network because it's eco-friendly.
The currency of this game is the POTATO token. In this game, users can create a group in the metaverse (virtual world) and visit each other's fields. Users can make money by selling their cultivated potatoes in exchange for tokens. Farmers club members have their own unique NFTs.
7. HappyLand
Happyland Farm game, or Happyland Finance, is another best crypto farming game in the crypto metaverse games. This game is designed on blockchain and inspired by the countryside in Texas (USA), which is a play-to-earn game.
In this game, they can own a farm and earn money by cultivating crops, breeding livestock, and making a beautiful farm. Players can design their farms in a unique style by themself. Players can acquire NFTs easily, and these NFTs are also available platforms.
How to earn in Happy Land?
To earn money, just use the provided land to cultivate fruits, crops, veggies, plants, and flowers and sell them to gain from Happy Land.
8. Wanaka Farm
Wanaka Farm is another renowned metaverse NFT farming game. It is a play-and-earn model-based game. Here players can cultivate crops, raise animals, and modify their metaverse land.
Users can also earn money by renting land to others where they can farm. In the end, produced items can be sold for a WANA token. This game's assets are designed as NFTs.
Wanaka Farm Token
Wanaka farm token is designed on the Binance Smart Chain (BEP20) address. Wanaka farm token's ticker is "WANA." WANA's current price and total market value are $0.04 and $2,191,975.44, respectively.
Is Wanaka Farm legit?
At present, people talk about WANA tokens very little that's why it's difficult to say whether Wanaka Farm is a legit project or a scam project.
9. Town Star
Town Star is a popular farming competition game, and this game is designed by Zynga (the company behind Farmville). Players can win huge prizes by ranking top on the leaderboard and completing daily challenges.
The main goal of this game is to build the most fruitful and efficient town possible by crafting, growing, and gathering. Players can acquire Town Points by selling their produced items.
How to earn Money from Town Star?
Players can earn money or Town Points easily by selling and completing daily challenges.
10. Farm Me
Farm Me is a virtual world farming game. This game is a multiplayer-building platform that is designed on a blockchain platform. The Farm is a densely multiplayer online role-playing game on NFT.
Due to the G-INFA "game infrastructure platform" that it uses, Farm Me is playable by players of all ages. In this game, players need to become a citizen of the city. Then you must select one of the six-character classes: Superhero, Policeman, Agent, Soldier, Special Forces, or Farmer.
Conclusion
In this article, we discussed some of the Best Farming games in the Metaverse and how to play and acquire money in Metaverse via playing these farming games.
The list selection of the games was hard while researching, but we specially presented them to our users. We discussed gameplay and methods to earn crypto, money, and NFTs. Please leave a like, give a rating, and share it with your friends if you like this article.